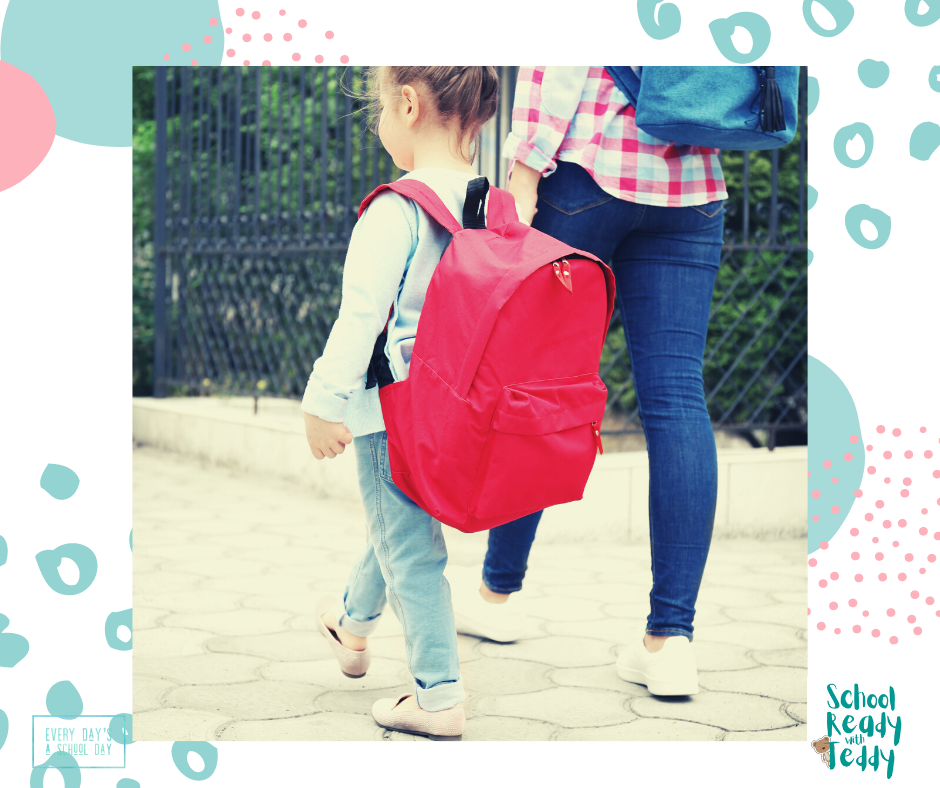 Do you want to make sure your child is prepared for school?
Do you feel confident that your child is ready for school?
Do they know how to ask for help, find their way around and make friends?
Do they have the independence skills to succeed at school?
Would you like to know more about the skills they really need at school?
School Ready with Teddy offers a fun way to learn and develop the confidence, independence and communication skills which will make starting school a breeze.
What is School Ready with Teddy?
A simple programme you can work on at a time to suit you. Just 10 minutes at a time, it's an easy, fun way to support your child to prepare for school.
It consists of engaging and fun videos for children focused on developing the 3 key skills needed for school. Plus lots of expert advice and support for parents along the way.
You will learn:
What your child is expected to know and be able to do at school
How to support them at home
Your child will learn:
Our 3 key skills: confidence, independence and communication
within the sessions on:
How to solve problems
How to communicate with adults and children
How to ask for help
How to listen and follow instructions
How to take turns
How to become more independent
How to recognise and write their name
How to develop friendships
How to manage change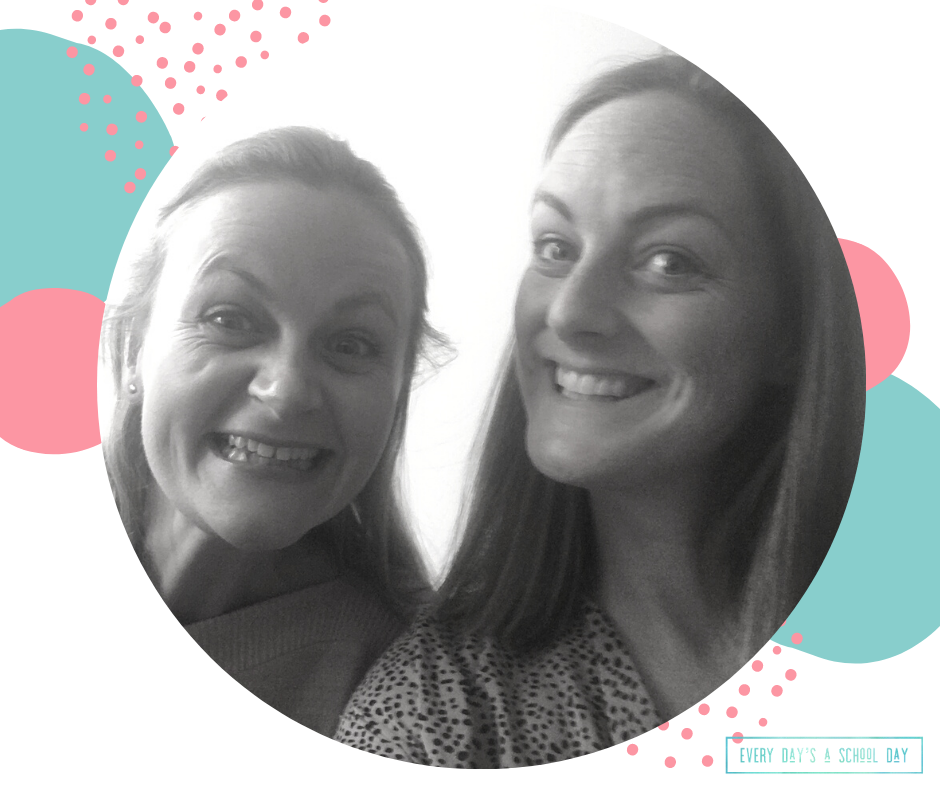 Emma (right) and Vix (left) are both experienced Primary Teachers and Mums, they understand that learning and preparation for school can feel confusing and scary. Vix has taught children aged 4-11 and has a specialism in Psychology. Emma is an Early Years specialist and has also been a Head Teacher for 6 years. Over 20 years combined experience gives them a wealth of expert knowledge to share with you. Emma teaches the programme content to children and adults and Vix works behind the scenes.
Emma and Vix met teaching a Reception class in a small village Primary school and together they have supported hundreds of children and families to prepare for school and love the first year.
Both Em and Vix work in schools currently and have an up to date understanding of the needs and challenges facing school starters in 2021. They bring a friendly and supportive outlook and promise to keep everything easy to understand and jargon free.
Emma and Vix live in Devon with their partners and both have two children who keep them on their toes! Emma's eldest started school last year and was an active participant in the School Ready programme. Vix's eldest is at pre-school, starting school in September and so joining in with you this year!
Children learn best through play and exploration. The School Ready with Teddy programme has been written with this as a core focus. Ted is our playful character who is starting school himself. He shares his journey of visiting school and the problems he encounters asking children to help him along the way.
Immersing themselves in the story of Ted enables children to learn new skills without even realising! In each session your child will learn a new way to problem solve a real life school scenario giving them confidence, independence and communication skills not just for starting school but for life.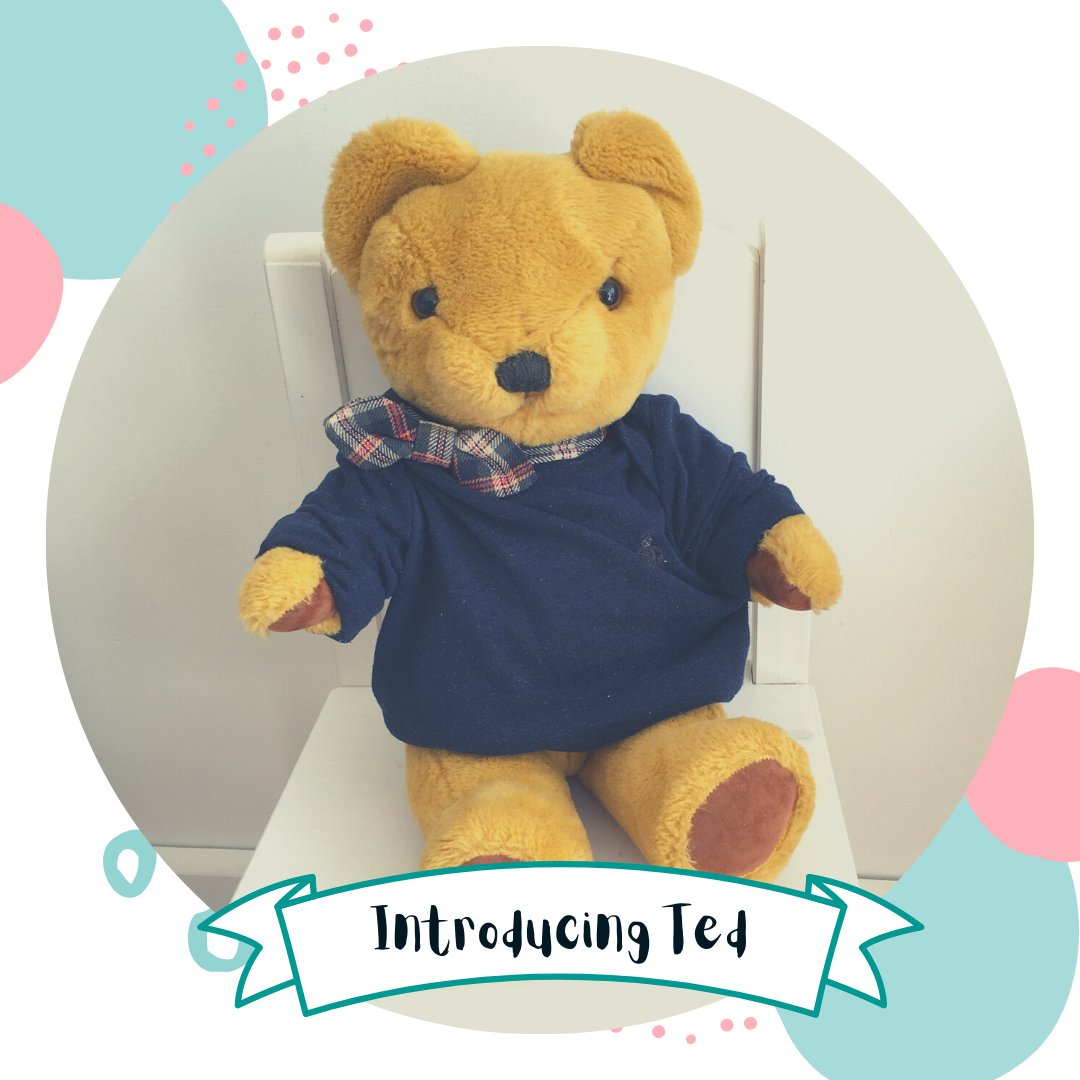 Laura joined School Ready with Teddy to support her little girl Casey, here's how she feels about the programme...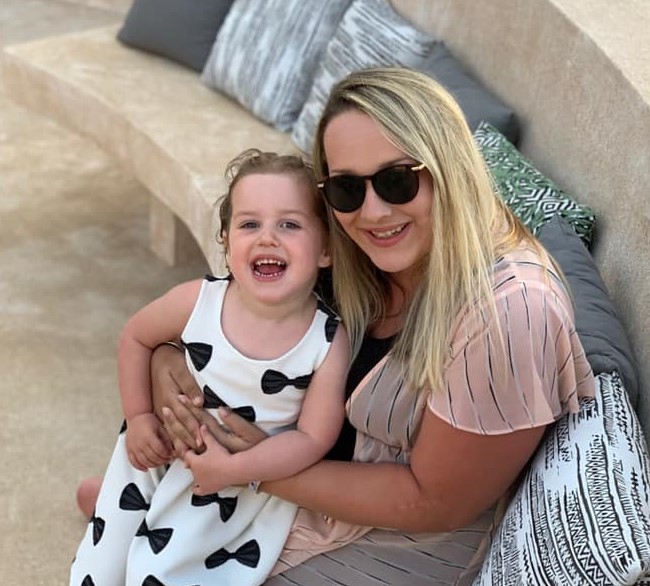 Here's what Meghan, Mum to Darcey has to say about the programme:
"It's been amazing, I'm quite sad that it's ended. I'm coming out with a good amount of knowledge and I've seen a real improvement in Darcey's language which was a worry for me. I'd highly recommend the programme to anyone who has a child starting school."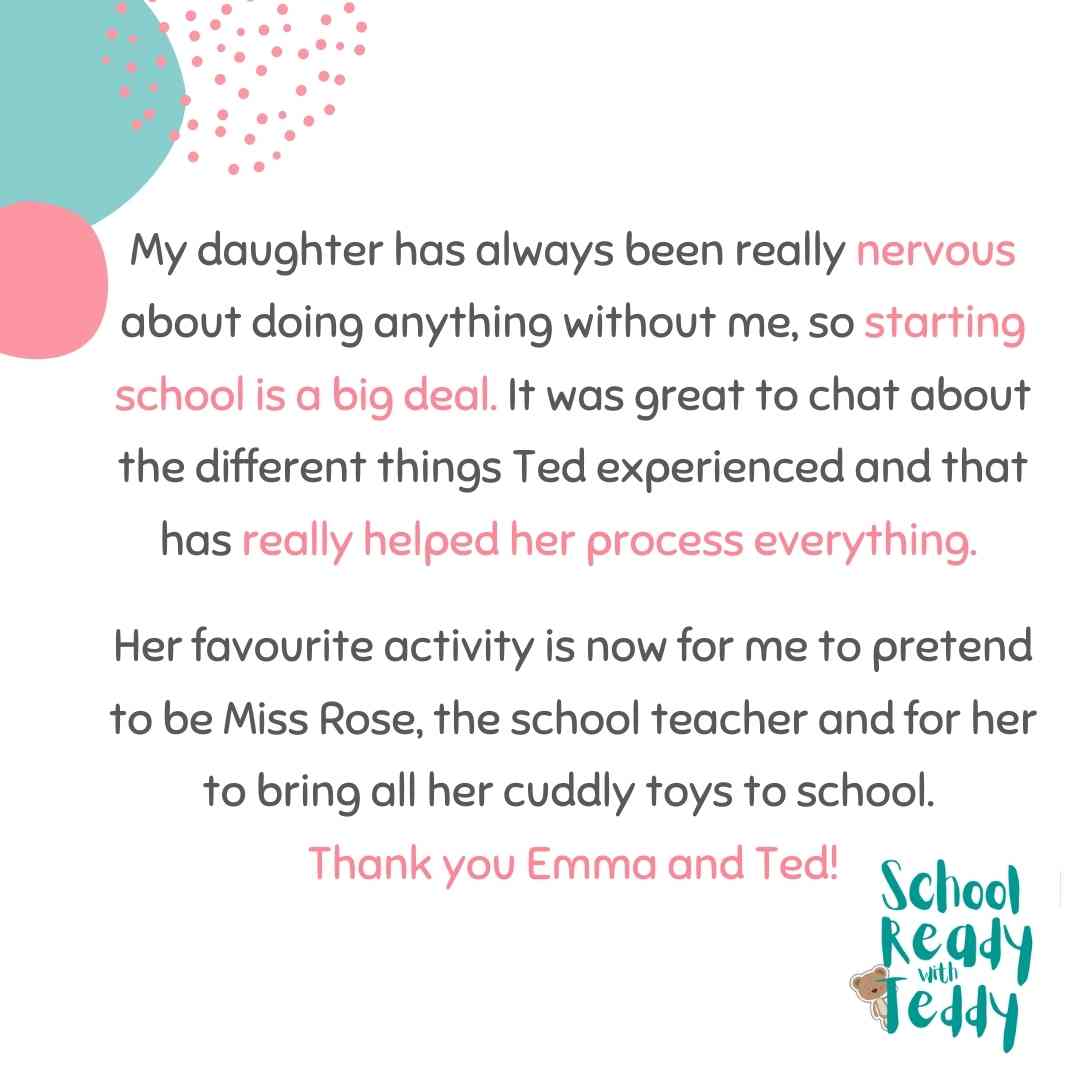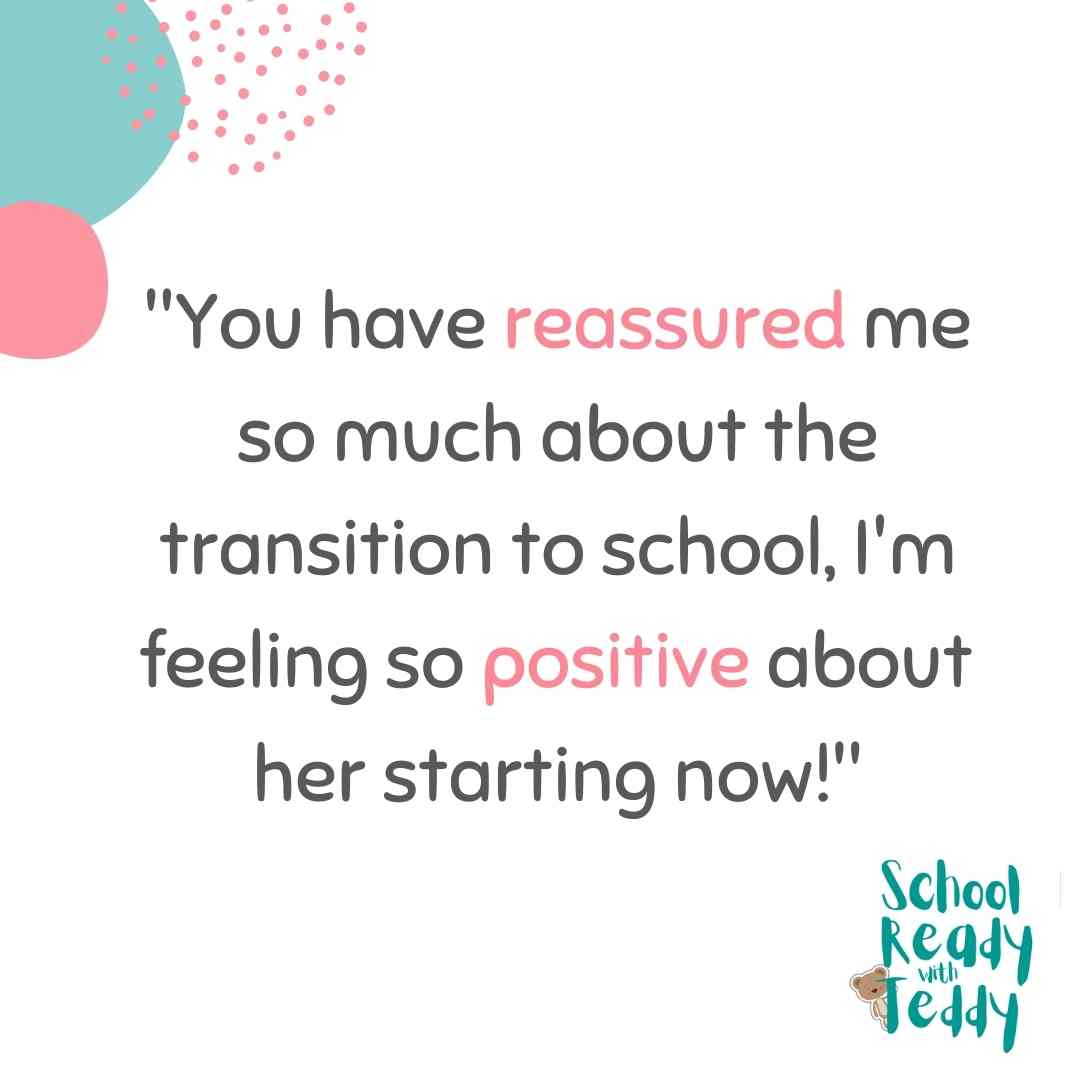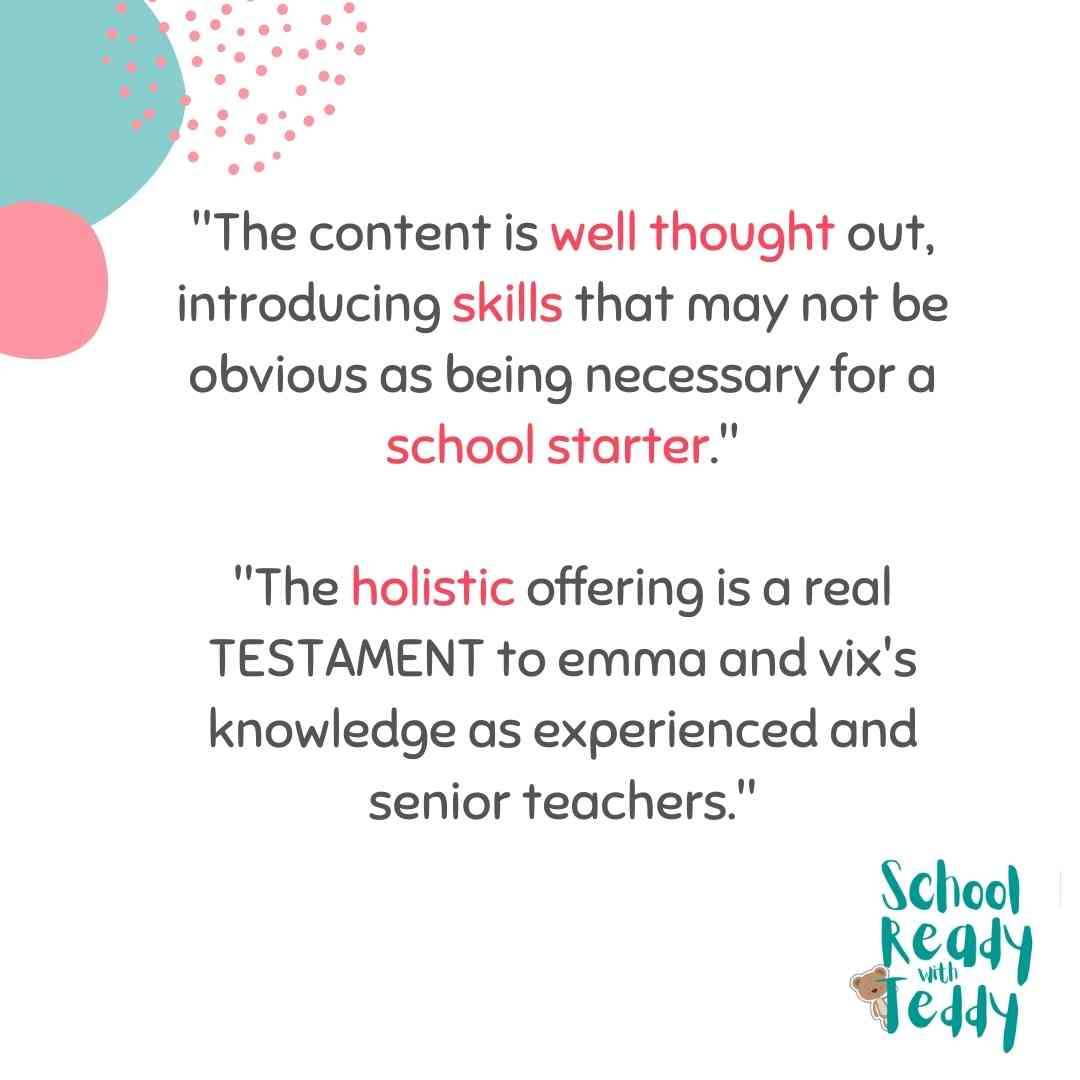 How does it work?
School Ready with Teddy is a completely online programme. You will get access to an online learning platform, accessible on all devices, which is easy to use and available 24/7 to suit you and your family. All you need to do is find 10-15 minutes for your child to watch a session, you can grab a cuppa safe in the knowledge you are giving them the best start to school life.
When you buy School Ready with Teddy you get:
Welcome videos for you and your child
7 interactive and engaging children's videos featuring Ted
7 parent guide videos to help you get the most out of each session
Downloadable resources for every session with over 30 activity ideas and games
A programme certificate for your child to treasure
Here's the programme curriculum:
And there's bonuses too!
We've teamed up with some fantastic companies to offer THREE great bonuses. Spring School Ready with Teddy customers will receive these bonuses included in the course price together worth over £85
Frequently Asked Questions
If you have any questions please get in touch via [email protected] Here is a list of frequently asked questions which may also help:
How many times can we watch the videos?
You have lifetime and 24/7 access to the programme content. You can watch the videos as many times as you want.
We're really busy, how much time do we need to complete the programme?
You can work at your own pace and access the programme content whenever it works for you. The adult guides are approximately 10 minutes long so easy to listen to on the go. The children's videos are around 15 minutes, you can pause at different parts to spread the session out or watch in one go. The downloads can be as little as 5 minutes each or more depending on how much time you have. You can choose to do as much or as little as you want.
What if my child is nervous about school/ I haven't talked to my child about starting school yet because I don't want to worry them?
The programme is designed to engage children in the story of Ted. There is no reference to viewers themselves starting school until session 7. The design enables children to engage with Ted's experiences and to gain confidence from know that they could help to solve his problems. This knowledge then develops children's own confidence, it's a bit clever!
What if my child doesn't start school until next year?
The content is created for children who are aged approximately 3-4 but you get lifetime access to the programme so it's perfect to join early so you have longer to prepare. If you would like to talk to use more about whether your child would be able to access the content please do get in touch.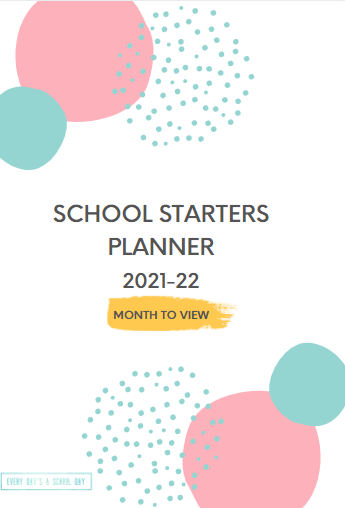 Get organised for you:
Grab our specially created School starters planner:
If you have a child starting school this year the School Starters Planner is everything you need all in one handy book:
⭐Key information about preparing to start school
⭐Top Tips
⭐️Space for school contact details, logins etc.
⭐Double page information about what to expect each month
⭐Monthly calendar pages pre-populated with main dates for school and reminders 
⭐Space for menu and lunch info
⭐Recommended websites
⭐Daily timetable pages
It's just £11.25 and is available to buy direct from Amazon: